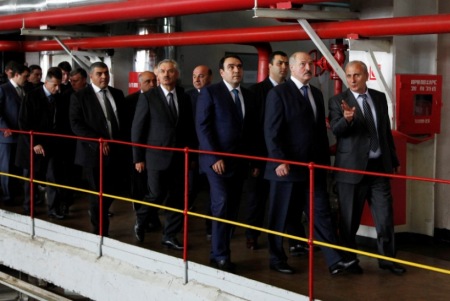 14.05.2013
The President of Belarus visited the ANPP
The President of Belarus visited the ANPP
On May 14, the delegation led by President of Belarus Alexander Lukashenko visited the Armenian Nuclear Power Plant. The RA Minister of Energy and Natural Resources Armen Movsisyan presented the Armenia's policy in the nuclear energy sector to the "guests". Plant's director introduced the power plant's work's nuances and the implementation of the security measures to the audience.
Belarus is building its first nuclear power plant and is interested in the great experience of Armenia in the field of nuclear energy, as well expects the support of Armenian professionals.
The president Lukashenko expressed the hope yesterday, that Armenia will provide specialists to assist in the operation of the Belarusian NPP.
The two countries have already signed the Armenian-Belarusian intergovernmental agreements on cooperation in the field of nuclear safety and radiation protection.
The cooperation experience of Armenian specialists with international organizations and experts in the field of atomic energy can be useful for the Belarus professionals, also.