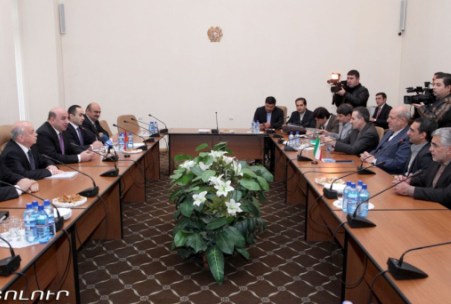 22.11.2013
Armen Movsisyan Received the Iranian Counterparts
Armen Movsisyan Received the Iranian Counterparts
On November 22, the Minister of Energy and Natural Resources Armen Movsisyan received the delegation headed by Iranian Energy Minister Hamid Chitchian. Minister welcomes the Iranian colleagues hosted in Yerevan and wished them fruitful work:
- There's no political problem between Armenia and Iran, and all our efforts are directed towards the developing and expanding cooperation in the economic and cultural field,- said Armen Movsisyan.
- We have a great potential for cooperation, and we have to do our best for fully using of that potential, as our programs are focused on economic development.
Iranian Energy Minister Hamid Chitchian thanked the partners for the warm welcome.
- I hope, that in the field of friendship between Iran and Armenia, we will be able to develop our relations more and more and fully to use the potential you mentioned,-said Hamid Chitchian.
- Today is much important to pass, as soon as possible, on the practical stage of two major projects: Meghri HPP and the Third high-voltage line constructions processes.
During the meeting, the Armenian and Iranian energy specialists discussed the issues of joint projects, as well as issues relating the regional cooperation in the field of electrical power.
By the way, before arriving in Yerevan, the expert group of the delegation with Armenian specialists, has visited to the Agarak's copper and molybdenum combine to discuss the environmental issues.
In 2010, the Armenian and Iranian sides, in the frame of Meghri and Gharachilar hydropower plants construction, had agreed to realize a special program in order to protect the water of Aras river from pollution.
Today, already, a modern technology, as a closed water circulation system is inserted in the Agarak's copper and molybdenum combine, which excludes wastewater flow to the Aras river.
Experts noted, that embedded system serves the purpose.
In the frame of the visit, the delegation headed by the Energy Minister of Islamic Republic of Iran Hamid Chitchian, also met with the Minister of Nature Protection Aram Harutyunyan. It is scheduled the delegation's meeting with the President Serzh Sargsyan, also.