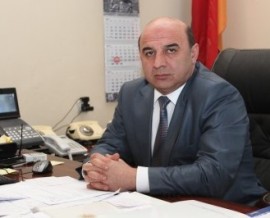 20.12.2013
HAPPY DAY OF POWER ENGINEERING SPECIALIST
HAPPY DAY OF POWER ENGINEERING SPECIALIST
On December 22, the shortest day of light, is the Day of Power Engineering Specialist: Armenian power engineering specialists celebrate their professional day.
I congratulate all power engineering specialists of the country: I wish them a safe and productive work for their hard and responsible job.
The day is festive, but, as usual, also is labor for the power engineering specialists: they are working day and night. They are the professionals, whose daily work's result is to ensure the people with light and warmth.
The modernization and development of the country's energy sector, as well the increasing of energy security and energy independence level are very important for our country, the main axis of which is the sustainable development of economy.
Behind of this programs and activities are working devotees, who continue the work and traditions of their predecessors.
Once again I congratulate all power engineering specialists.
I wish them effective work for the benefit of the Republic of Armenia.
Armen Movsisyan
RA Minister of Energy and Natural Resources
ՀՀ էներգետիկայի և բնական պաշարների նախարար