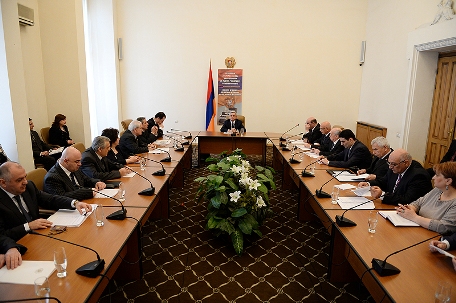 28.03.2014
The President Visited the Ministry of Energy and Natural Resources
The President Visited the Ministry of Energy and Natural Resources
On March 28, the President Serzh Sargsyan visited the Ministry of Energy and Natural Resources.
The President toured a number of structural units of the Ministry's staff, particularly, Atomic Energy Department, Investment Projects and Capital Expenditures Department, Development Department and External Relations Department.
The President Serzh Sargsyan gօt acquainted with the Ministry's working conditions, talked to employees about the projects being implemented, as well as about current problems.
After the tour, the President held a consultation with the leadership of the Ministry.
The Minister of Energy and Natural Resources Armen Movsisyan, the Deputy Ministers, the Head of Staff presented the works carried out in the sphere of energy and natural resources, the forthcoming programs, the existing problems and the measures taken to deal with those problems.
Minister Armen Movsisyan introduced the main indicators from 2011 to 2013 years, works implemented in the sphere of Armenia's energy and natural resources, as well as the development strategy.
The Deputy Minister Iosif Isayan reported on the indicators of the paid taxes and the goods produced in the spheres of electricity, natural gas and mineral industry.
He also presented the implementation process of the works in the energy sphere envisioned by the action plan on Armenia's joining of the Customs Union and the common economic area, as well as the results of the works being realized at Armenian-Chinese Shansi-Nairit joint enterprise.
The Deputy Minister Ara Simonyan reported on the process and results of the investments projects being realized in the power grid sphere.
The Deputy Minister Areg Galstyan presented to the President of Armenia the works being carried out in the sphere of atomic energy to ensure the security of the second energy block of the Armenian Nuclear Power Plant and to increase its operating period, the construction project of building a new energy block in Armenia, the restored energy and energy saving programs, the issues of regional integration and international cooperation, as well as the work driven to adopt international treaties, legislative and sub-legislative legal acts.
The other Deputy Minister Levon Shahverdyan introduced the current works concerning the operation, security, reliability and the regime optimization in the spheres of electricity, thermal energy and gas supply.
The Energy and Natural Resources Ministry's Head of Staff Karen Ghahramanyan presented to the President the main financial and non-financial indicators of 2011-2013, the results of the works carried out by the Ministry's organizational and special units.