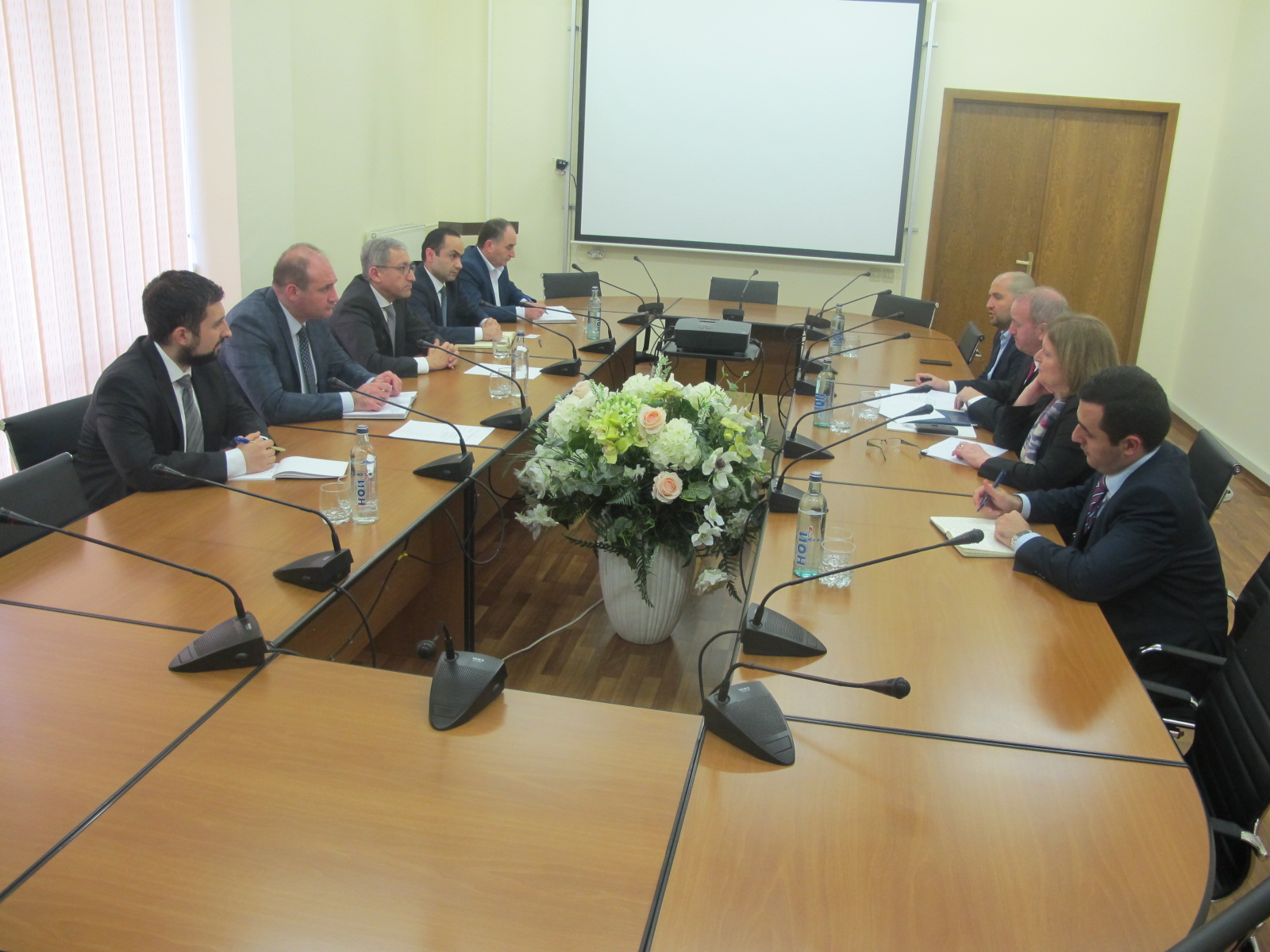 09.11.2017
Ashot Manukyan discusses cooperation issues with UK Prime Minister's Trade and Investment Representative in Armenia
RA Minister of Energy infrastructures and Natural Resources Ashot Manukyan met November 9 with UK Prime Minister's Trade and Investment Representative Marc Pritchard. Ambassador Extraordinary and Plenipotentiary of the United Kingdom to the Republic of Armenia Judith Farnworth also participated in the meeting. The possibilities of cooperation in energy and subsurface areas were discussed.
Welcoming the guests, the Minister attached importance to the appointment of the Prime Minister's Trade and Investment Representative in Armenia, expressing conviction that it will promote the strengthening and deepening of trade and economic ties between the two countries. At the guests' request Ashot Manukyan presented the priorities of the sector.
It was noted that for the purpose of strengthening the country's energy security, it is the task to increase share of electricity generation from domestic renewable sources will reaching 50% of consumption over the next several years.
In this regard, the most effective use of solar and water resources is the priority, - the minister said.
Among the priorities Ashot Manukyan has also highlighted the sphere of subsurface, where the first steps are being taken to introduce a "responsible" mining policy.
We have a problem with attracting investors who will be responsible for the sphere,- Ashot Manukyan said.
As an example of a "responsible mining", noted "Lydian", a company that, according to Ashot Manukyan, has contributed to new business culture and advanced corporate governance approaches to Armenia. The Minister informed the guests about the steps taken and the ongoing initiatives in this sector of the economy.
The cooperation in the field of personnel training was also highlighted. Expressing gratitude for the reception, Marc Pritchard considered it pleasant to hear about the Armenian government's intentions to attract foreign investment. It was noted that the United Kingdom is interested in cooperation with our country in trade-related spheres.
The participants of the meeting expressed willingness to continue the discussions in the direction of further cooperation.