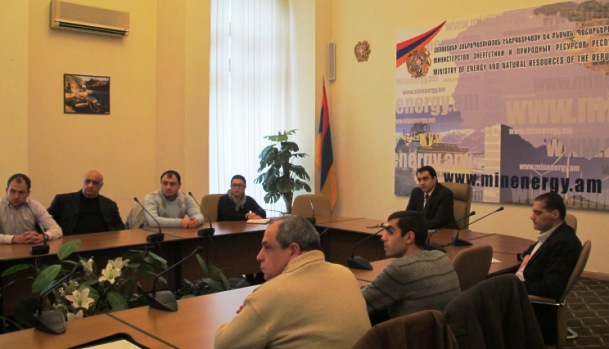 30.01.2015
30.01.2015 There were Presented the Business Plans of Clean Technologies
On January 30, by the initiative of the RA Ministry of Energy and Natural Resources, the representatives of six winner organizations of "Clean Technologies for SME-s" contest project were hosted in the Ministry.
During the project, initiated by the UN Industrial Development Organization, were submitted clean technology business ideas by different organizations, of which there were selected the best six: "Ecotechnology", "SolVar Systems" , "NanoHi", "Am-Eska", "Renewable Energy Research Team", "Bitlis-Men".
These companies have offered business approaches in the energy saving, renewable energy, getting power of waste and water resources management spheres.
During the meeting the winner organizations have presented the business projects, for which they have received grants, and they are going to implement the prototypes of technologies proposed by them.
The Deputy Minister of Energy and Natural Resources of RA Hayk Harutyunyan has expressed readiness to get acquainted with all innovations as soon as their prototypes will be ready.
He emphasized the importance of innovative technologies in the energy sector and expressed his willingness to support the economically most justified innovative business initiatives in the frame of his prerogatives.